Play it safe:
Our guarantee knows no compromises
We provide you with a full two-year guarantee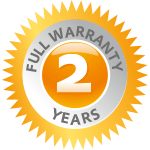 If a defect occurs during the guarantee period we cover the costs for replacement (Exchange and replacement only at the dealer who has performed the installation, guarantee payments up to € 100.00 net.) and the defective seat heater parts.
For carboset Vario, our top product, we provide you with a 10 year guarantee

Excluded are the electrical and electronic components such as cable set, switch and electronic control system. The 10 year guarantee includes the full guarantee cited above for the first two years. After this, if there is a defect, you only incur the costs for replacement – you will receive all spare parts for our carbon seat heater guaranteed free of charge. Take us at our word.